"How did it get so late so soon?"
― Dr. Seuss
The second issue of my Photo Quarterly Digital Zine is now available for free from my Publications page and the links below.
This quarter's quarterly was harder than the previous one to create. Our turbulent times have taken a toll on my energy, though, I feel I'm starting to build momentum toward creative actions. The completion of this issue is a move in the right direction. Please enjoy.
Issue 2: Quarter 1, 2020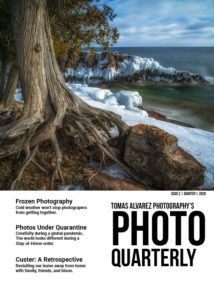 In this issue, I recount my experience at the Frozen Photographer's event in February at Cove Point Lodge in Silver Bay, Minnesota, search for creativity during a Stay-at-Home order, and review a favorite destination. This quarter's cover was selected as the winner of the photo contest held at Cove Point Lodge during the Frozen Photographer's event.

Download Links
Issue 2: PDF – Low Resolution (3MB)
Issue 2: PDF – High Resolution (59MB)
Issue 2: ePub – Full Resolution (25MB)
---